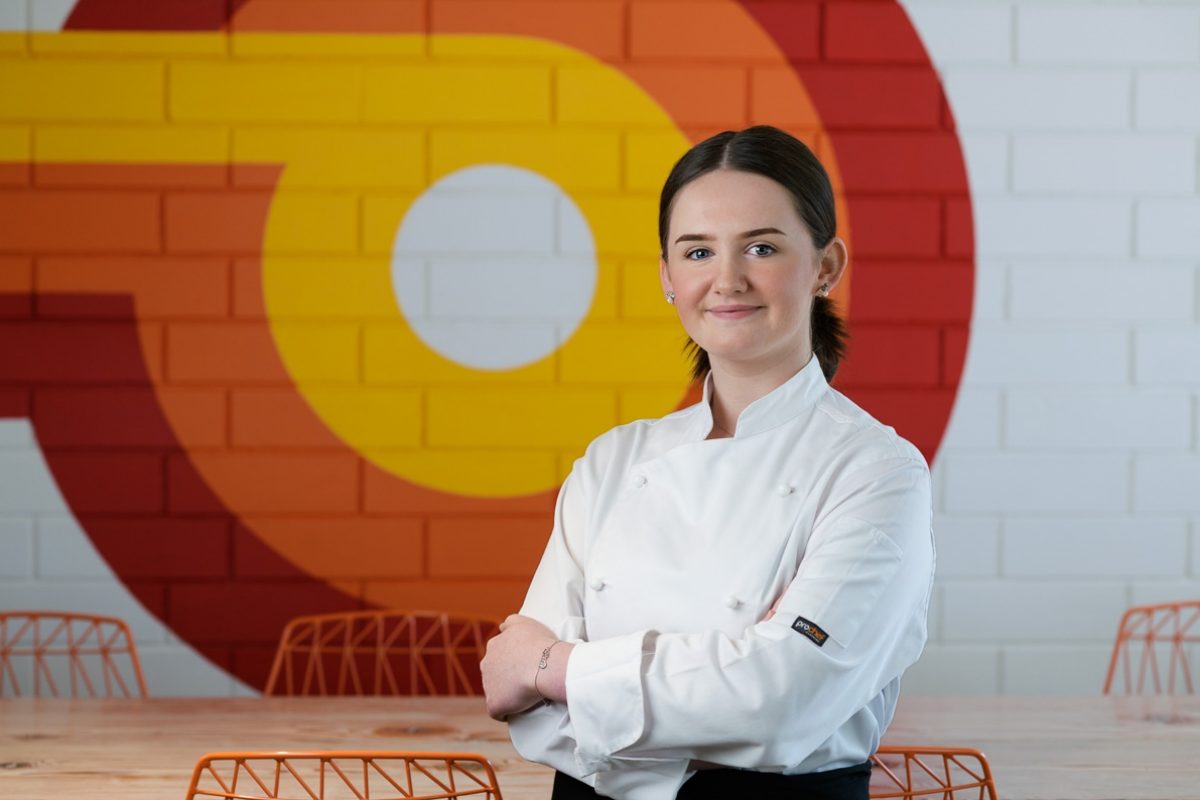 Stephanie's SA Training Awards Success
Congratulations to Paralowie R-12 School's Stephanie Verrall, who was recently announced as South Australia's 2020 School-based Apprentice of the Year. She was formerly trained by the fabulous Salford College trainer, Sarah Adams, who knows Stephanie is going to go a long way in the industry! Through her apprenticeship at 'My Kingdom for a Horse', Stephanie will ultimately complete a Certificate III in Commercial Cookery.

Stephanie has been interviewed for the Australian Training Awards as the SA representative and we wish her all the best in this process.
The SA Training Awards website provides the following information:
Immersing herself in the world of food, kitchens and cookery as part of a school-based apprenticeship saw budding lawyer Stephanie Verrall switch streams to follow her passion through Vocational Education and Training (VET).
Currently completing Year 12 at South Australia's Paralowie R-12 School, Stephanie had a Certificate II in Kitchen Operations under her belt, and had established her own successful cake-making business, when she became the first school-based apprentice to be employed by multi-award winning café, My Kingdom for a Horse.
"Until I discovered cooking, my life goal had always been to become a lawyer," says Stephanie. "However, after commencing my VET training, I realised my love for cookery and changed my career direction."
"Through engaging in my Certificate II course, I've gained a school-based apprenticeship, extensive knowledge about the hospitality industry, a lifelong mentor, and a silver medal at the Secondary Schools Culinary Competition. I won the 2019 Northern Adelaide State Secondary Schools Alliance's (NASSSA) Vocational Student of the Year and Hospitality and Food Processing Industry Areas awards, and I've had the opportunity to become a VET ambassador."
An avid gardener who loves creating home cooked food from her own harvest, Stephanie has particularly enjoyed the opportunities her apprenticeship has provided to gain first-hand experience in a team setting, complementing her formal VET studies with skills in communication, creative and critical thinking, collaboration and problem solving.
Competing against a field of 1000 students drawn from across 13 schools to take out NASSSA's Vocational Student of the Year award gave Stephanie the encouragement she needed to take on a peer mentoring role with other young people.
In early 2020, the 2019 NASSSA Vocational Student of the Year, Stephanie Alexander Kitchen Team Leader, NASSSA VET Leaders Luncheon Team Leader and Secondary Schools Culinary Competition Team Leader was invited to present to hospitality students of VET provider, Salford College, sharing her culinary passions and highlighting the impact her studies have had on her life and future.
"I've always been committed taking on leadership roles because I enjoy being able to encourage others to develop their traits," says Stephanie. "At Salford College, I spoke about my love for food and creating dishes, and how VET has positively changed my life and career. I had the opportunity to share my experiences with my peers and to help them to understand that being a part of the VET system is utterly rewarding."
"VET has opened pathways for my future by giving me the skill set required to enter the hospitality industry to pursue my career as a chef. Without it, I wouldn't have gained the skills and knowledge I needed, and I wouldn't have had the chance to undertake the commercial kitchen experiences that gave me the boost to change my career path."