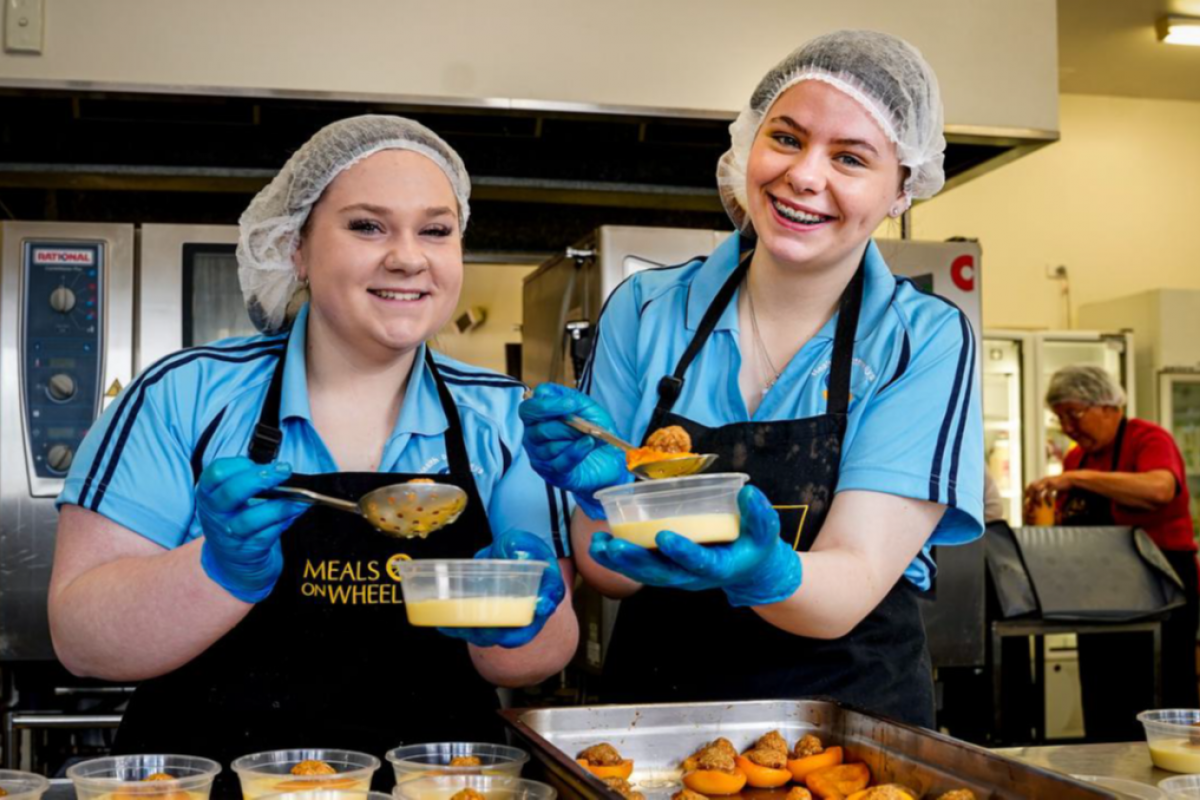 Certificate III in Health Services Assistance VET students
Paralowie R-12 School students Shaylee Wood & Tameka Joseph were featured in a newspaper article in 'The Advertiser' on Monday 17th May. While the main story targeted more volunteers needed at Meals on Wheels, it also highlighted the valued contributions of the NASSSA Certificate III in Health Services Assistance VET students, trained by Melissa Willson at Paralowie R-12 School ........Meals On Wheels Advertiser Article
Students happy to lend a hand in the kitchen
Helping prepare meals at a volunteer kitchen has ignited an enduring passion for community service for teenagers Tameka Joseph and Shaylee Wood. It's hoped other young people will follow suit and also line up to volunteer.
The Paralowie R-12 School students have been rolling up their sleeves to help at the Salisbury Meals on Wheels branch. As well as gaining accreditation towards the VET Certificate III Health Services Assistance course, the students have gained insight into the critical role of volunteers.
Meals on Wheels SA chief executive Sharyn Broer said it had never been more important to promote community service, particularly among the next generation, with many charities in urgent need of assistance as demand swelled post-COVID.
"Volunteering is one of the most rewarding things you can do in your lifetime," Ms Broer said.
"Our volunteers enrich the lives of our clients, many of whom are disadvantaged and seeking social connection. "Our branches across the state are in urgent need of more volunteers, particularly drivers and deliverers, and we must also look to the future.
"It's vital we attract volunteers of all ages and walks of life to keep up with the growing demand for our services. I'd urge anyone who has some hours to spare to contact us."
For Year 11 student Tameka the experience has highlighted the pressing demand among society's less fortunate for support services. "When I leave school, I would love to continue volunteering. It's an interesting activity to do and gets you out communicating with people in the community, talking and following instructions," she said. Classmate Shaylee has plans to
volunteer or work part-time in a caring role while studying paediatric nursing at university.
"It is a small thing for us to help out, but it can make a real difference in people's lives so they can stay healthy and live in their own homes," she said.
Meals on Wheel is looking for more volunteers, for information go to: mealsonwheelssa.org.au/support-us/volunteer