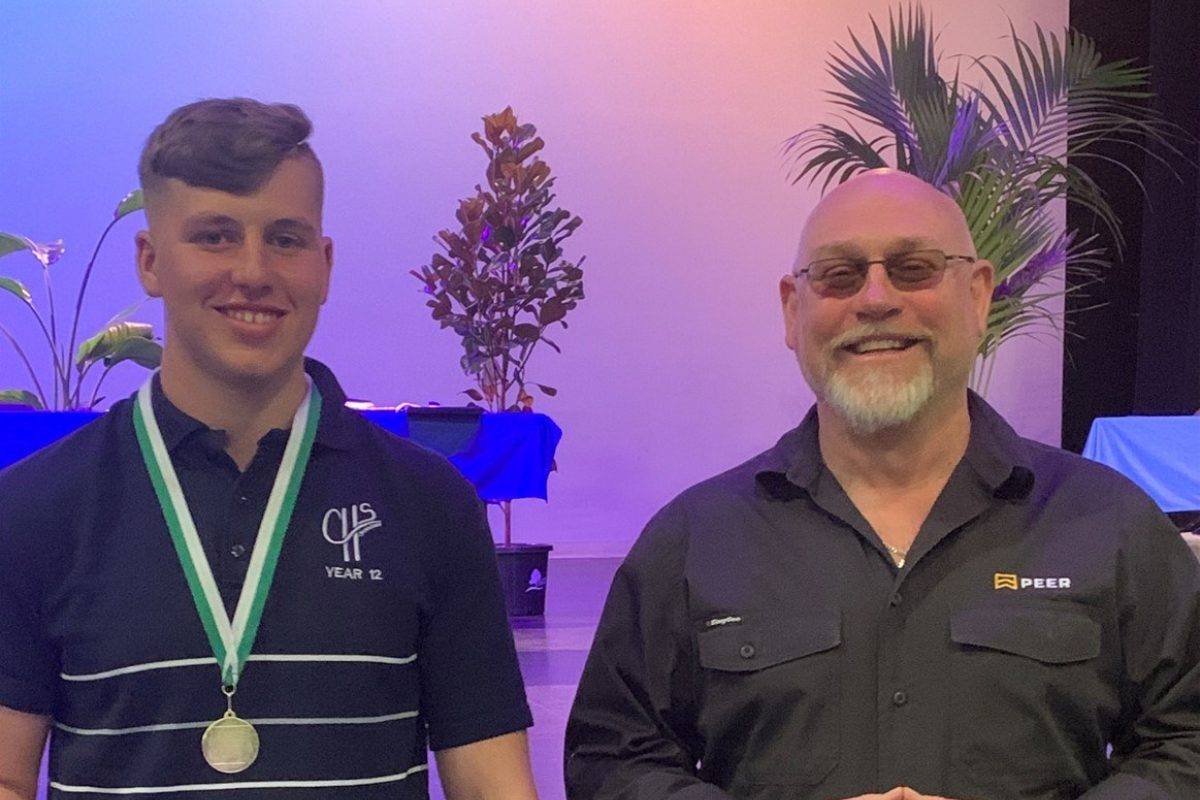 Thomas Downie wins the 'NASSSA Vocational Education and Training Student of the Year for 2020'
At a ceremony held on February 10th 2021, Craigmore High School student Thomas Downie received the award of 'NASSSA Vocational Education and Training Student of the Year for 2020'. The NASSSA VET Awards acknowledge the efforts of more than 800 NASSSA Regional VET students who trained in 11 different industry area categories throughout the year. Thomas won this major award from the nominations of 30 other very worthy class nominees.
Thomas successfully completed a Certificate II in Electrotechnology (Career Start), despite the challenges of COVID-19 and whilst also overcoming many personal obstacles and barriers. His VET course was delivered at Parafield Gardens High School where his training was provided by Registered Training Organization PEER.
Through a rigorous selection process, Thomas firstly won his class nomination, then went on to win the Industry Area Award through his very detailed application. After a structured interview by local Council, Community and NASSSA representatives, Thomas was then chosen as the overall Award winner. The judges noted how difficult they had found the task of deciding between the final 5 candidates, but after much deliberation, it was Thomas's commitment to excellence and employability that enabled him to win the top prize.
Thomas's trainer, Tony Nielsen from PEER, attended the ceremony at Craigmore High school to represent PEER as the major sponsor of our 2020 Awards. Tony presented Thomas with his award & was delighted that it was one of his own VET students who took out the top prize.
Prior to the award announcement, Thomas had applied for an apprenticeship as an Electrician with PEER and was successful in achieving that. He now looks forward to the start of his electrical career as a result of the quality training received during his NASSSA course.
Congratulations Thomas! Wishing you a successful career pathway towards becoming a fully qualified electrician.
Congratulations also go to the 10 other Industry Area Finalists:
Lachlan Sammut – Agricultural & Science Industry Area
Dayna Johnston – Automotive Industry Area
Jayden Keys - Construction Industry Area
Kaylah Brewster - Hair & Beauty Industry Area
Shannon Johnston – Health & Community Services Industry Area
Robert-Drinkwater-Hall – Hospitality & Food Processing Industry Area
Toby Walsh – Music, Arts, Dance & Fitness industry Area
Kimberley Lambert – Information Technology, Entrepreneurial & Business Industry Area
Scott Carthew – Multimedia & Creative industries Industry Area
Yaileena Lanthois-Reynolds – Aboriginal Student Award