The NASSSA Debating Grand Final was held at the Mawson Centre Lecture theatre on Wednesday, 23rd November 2016.
There was an appreciative audience in attendance comprised of representatives of local MPs, local councils, community organisations such as our major sponsor Rotary, NASSSA Principals, NASSSA Leaders and NASSSA staff and most importantly parents and fellow students of the debaters.
In 2015 NASSSA ran a very successful debating competition.  The competition was expanded in 2016 to have a Junior and Senior Competition.  NASSSA would like to acknowledge the work of the enthusiastic and driven teachers who make this competition possible throughout the year.  Alana Atwood from Paralowie R-12 School has been instrumental in both years and has truly been the "glue" that has held the competition together. Matt Nankervis from Craigmore High School has admirably filled the breach left by Justin Kentish.  Students at each school were supported by dedicated and enthusiastic teachers.
The NASSSA Debating Competition received wonderful community support.  Group 4 Rotary was our major sponsor and Rick Henke in particular provided ongoing support for the competition.  Salisbury Council  assisted with venues on numerous occasions and Sarah Bevan was an absolute delight to work with in bringing these arrangements to fruition.  Julie Fyfe, Andrew Murray and Mel Gray played a major role in securing the Mawson Centre as our venue for the Grand Final.  Debating SA team have proven to be a wonderful partner and support, in particular Sonja Lowen for her training of students and staff and her adjudication with honest and authentic feedback which has been a major factor in our NASSSA students growing so much during this competition.  Our regular adjudicators Heather Parkes and Sally Parkes McClay ensured the competition was able to run smoothly as the season progressed.  The unwavering commitment from the NASSSA Principals' group ensured that local arrangements at schools allowed the competition to happen.
Now to the important news – the results of the debates. 
In the Junior Grand Final: Paralowie R-12 School and Craigmore High School debated "That banning smoking in outdoor dining areas is the right decision".  After a very tight debate the decision was that the Paralowie R-12 School team of Rayme Truong, Rachael Morrissey, Paulo Valdrez defeated the Craigmore High School team of Rebecca Moldovan, Sophie Knight and Monty Friend.  Best speaker for this debate was Rachael Morrissey.
In the Senior Grand Final: Paralowie R-12 School and Craigmore High School debated "That traffic fines should be based on income". This debate was also very close and the adjudicators decision was that the Paralowie R-12 School team of Luke Bradley, Shaona Imaru and Gareth Bailey defeated the Craigmore High School team of Kacia Kras, Mahala Bown and Edith Parkinson.  Best speaker for this debate was Gareth Bailey.
Jim Buckoke from Elizabeth Rotary and representing Group 4 Rotary presented trophies to the winners and runners up for both the Junior and Senior competition.  Jim also presented the Perpetual Trophy for the Junior Competition to a very proud Peter McKay, Principal Paralowie R-12 School.  Finally Jim presented individual trophies to the "Best Speaker of the Tournament" – Junior, Rayme Truong from Paralowie R-12 School and Senior Gareth Bailey from Paralowie R-12 School.
Once again a big thank you to all who supported the 2016 NASSSA Debating Competition.  We look forward to seeing you again for the 2017 competition.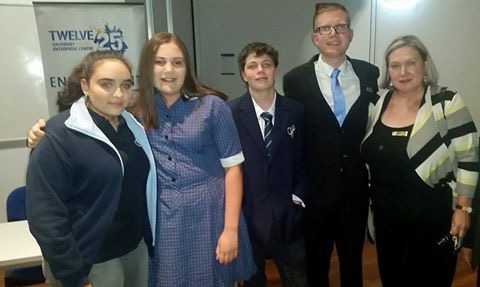 Junior Grand Final: Runners Up - Craigmore High School team of Rebecca Moldovan, Sophie Knight and Monty Friend with Debating SA Adjudicators David Morton and Sonja Lowen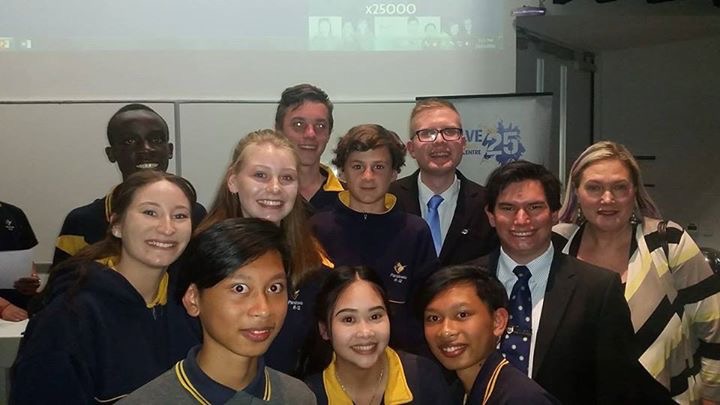 Junior Grand Final: Winners - Paralowie R-12 School team of Rayme Truong, Rachael Morrissey, Paulo Valdrez with other team members and Debating SA Adjudicators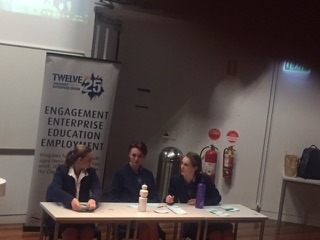 Senior Grand Final: Runners Up - Craigmore High School team of Kacia Kras, Mahala Bown and Edith Parkinson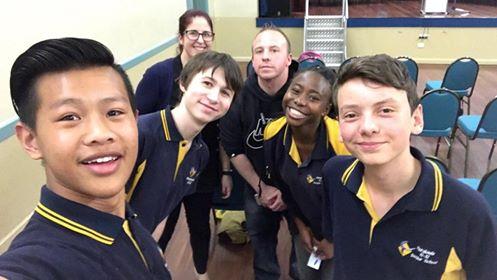 Senior Grand Final: Winners - Paralowie R-12 School team of Luke Bradley, Shaona Imaru and Gareth Bailey