The NASSSA VET Student of the Year Awards  recognise students who have demonstrated exceptional skill, commitment and/or achievement while undertaking a NASSSA Vocational Education and Training (VET) in Schools program or School Based Apprenticeship. 
In 2017, they were held at the Shedley Theatre, Elizabeth, on Tuesday December 12th.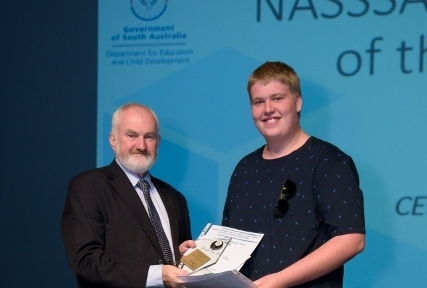 NASSSA VET Student of the Year 2017 was Jared Van Der Zee from Parafield Gardens High School (Cert III in Microbusiness Operations), pictured receiving his award from Mr Mick O'Neill of Northern Economic Plan - DSD (Platinum event sponsors)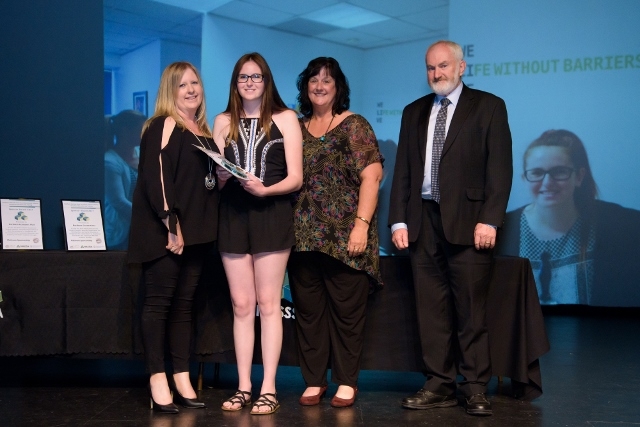 NASSSA School Based Apprentice of the Year for 2017 was Tamara Bakker-Rennie from Craigmore High School (Cert III in Business Administration) pictured receiving her award from Mr Mick O'Neill along with her employer representatives.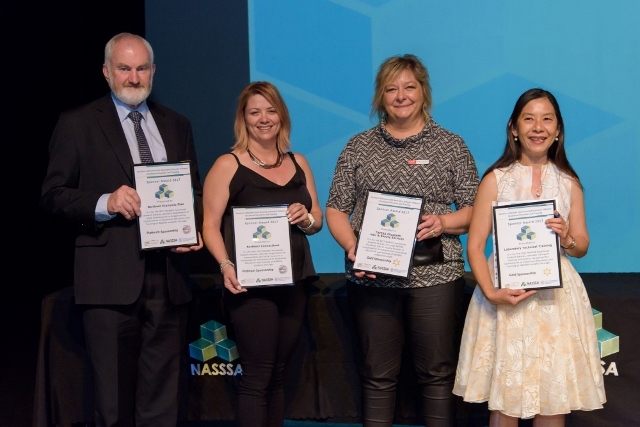 Sponsors of the awards (above L to R) included Department of State Development (Northern Economic Plan) & Department of Communities & Social Inclusion, Northern Connections  (absent), TAFESA Hair & Beauty (Elizabeth) and LTT Group (Lab Tech Training). The Workabout Centre also supported the event and three students from the inaugural Certificate III in Learning an Endangered Aboriginal Language provided the Acknowledgement of Country (below).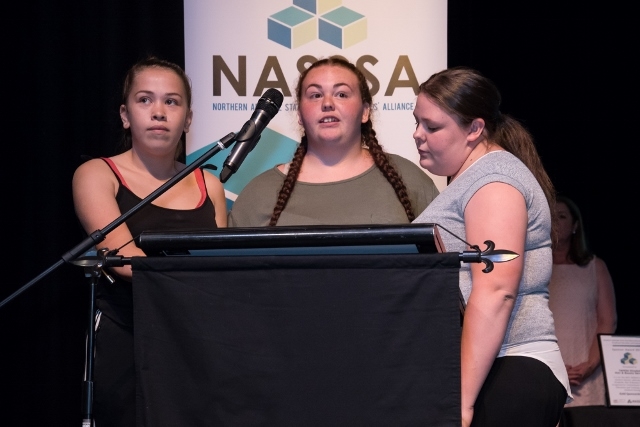 Also, approximately 40 trainers present at the Awards received a Certificate of Recognition and  Appreciation.
The NASSSA VET Team (below) collaboratively ensure nearly 1,000 students every year, can follow their identified passion in Vocational Training. An amazing group, with young people at the 'centre' of everything they do!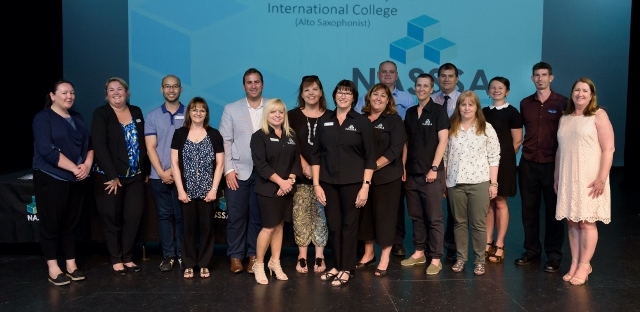 2017 Industry Area Winners
Aboriginal Award: Jacob Turner of Mark Oliphant College
Agriculture and Science Award: Ange Nishimwe of Salisbury East High School
Automotive & Transport/Logistics Award: Julia Bodnick of Salisbury High School
Construction Award: Shane Woollett of Salisbury High School

Electrotechnology Award: Alex Bouwer of Gawler & District College B-12
Engineering Award: Jake Kerley of Parafield Gardens High School
Hair and Beauty Award: Isabel Hammill of Gawler & District College B-12
Health & Community Services Award: Kayla Huet of Paralowie R-12 School
Hospitality & Food Processing Award: Jacob Turner of Mark Oliphant College
IT & Business Award: Jared Van Der Zee of Parafield Gardens High School
Music & Multimedia Award: Zaydon Burnell of Paralowie R-12 School
Sport, Recreation & Fitness Award: Hannah Pritchard of Mark Oliphant College